To be honest, my gear isn't perfect. From time to time I change. I mean those bags for my gear. I haven't found a perfect solution, the one I do have right now is the one that is useful but still a compromise and uncomfortable for me. And yes, I know very well, these are first world problems. Also some of you guys are astonished at meetings thinking I forgot my notebook. I then come up with my tiny MacBook. You asked me, what else is in that bag I do have with me. So I'll explain for you. Maybe you do have a better solution for all of my gear.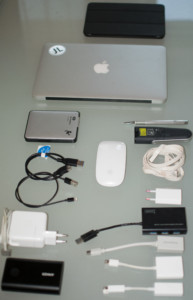 By using minimalistic tools, I'm good to go on long journeys each month. I'd like to grab my Macbook and instantly work on it. Whenever I'm on public transport or at hotel site, I do use my iPad. These both items are the only ones, I won't ever change.  So if you say try a surface, I'd likely will ignore that ;-). By not having my stuff with me I do feel naked and unsafe. 
MacBook Air 11″
So whenever I do visit you, one of your customers or you're my direct customer, I do need all my gear – or at least part of. My very main tool is a MacBook Air Mid 2013 (i7, 8G), the very first one that came out including Thunderbolt. It has one of those blazing fast PCI-E SSD's. It is that fast enough, to power several Virtualbox virtual machines I'm havin' Demos on or all my hacking tools to do forensics or pentesting. My Macbook is business only you won't find any private stuff on. It is filevault encrypted, the SSD is locked within BIOS.
iPad Mini
The second tool I do need is a private one. I do love my iPad mini 3 so much. It does contain all my life. It is Music, Podcasts, Books and Video. It also is part of my history, as it contains Photos of people I do love. It is a social communicator. It also talks to my Plex at home and does so much more to entertain me or helping me to dream.
All other stuff came to me as needed. I use to take it with me, but I don't need it all time. It is like if you don't have an umbrella with you, it'll rain instantly…
---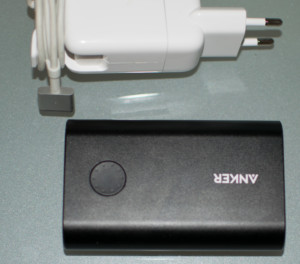 45W Magsafe AC
The very first is Power.  I'm glad to have a long lasting – at least 5 to 6 hours – MacBook whenever I don't use virtual machines. If I do need power to charge, I'm happy to have the relatively small 45W Magsafe AC with me that came with the MacBook Air.
Anker PowerCore+ 10050 mAh
This is a well crafted, very little but heavy device. It is at least just a little bigger than my Davidoff Classic boxes and can power one of my iOS devices like the iPad or the iPhone. By having my iPad with me, I often do use it as LTE modem – by doing so battery is dying. It does help a lot but is very heavy. It is new to me (almost a week or so) and needs additional space I don't have I explain later on.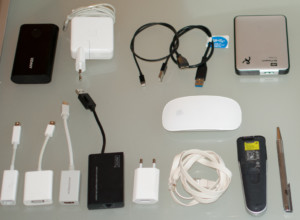 Western Digital My Passport (WDBLUZ0010BSL)
It came with my Macbook as Cyberport had a deal on it. Buy one Mac, get one WD for free. As I found out how easy WD's encryption can get bypassed, I no longer rely on and do use different tools to encrypt volumes. I'm not happy with that also because of it's a USB3 device. But I do need space sometimes. I the more would like to have one of those Thunderbolt external SSD's but they're waaaaaay too expensive by now and I found none w/o external AC that is bus-powered only in a decent pricing category.
---
Adapters, OMG!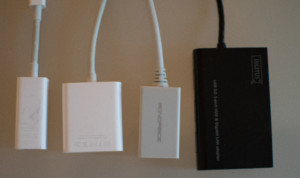 They came all to me, I didn't do anything about. As like with all modern devices, a MacBook air does have one Thunderbolt and two USB3 ports. Nothing more. So you need at least adapters. They just forgot the second thunderbolt you have in the bigger MacBooks. This is the very downside of my primary tool. At least 4 of them I carry with me is because of there's no f*ing Thunderbolt mini Dock I'd like to have. In addition the better working two of them are by my very good friend @markoruschin, Thank you!
The Apple A1433 Thunderbolt to Ethernet adapter is the one and only reliable one I know of talking to plain ethernet and being also capable of flawlessly bridging into my KALI or OpenVAS vm's.  In addition I got two Video Adapters, one is Thunderbolt to HDMI, the other one is Thunderbolt to VGA. In addition I do have this very, very cheap and not always working "Digitus 3-Port USB Hub & Gigabit LAN" adapter. This thing is that bad, it cannot provide Ethernet stable but I do need, whenever I do use my Macbook as a workstation at customer site.
I so much like to have just one device, being able to provide Ethernet, 2 or 3 USB3 Ports and HDMI on Thunderbolt but there is no adapter just those freaking ultra big thunderbolt docking things I really don't need. It's just that, nothing more I do need, so I could get rid of at least 4 of my adapters. I'd like to have it as Thunderbolt because of I do hate USB as you already know. So this is the very fist thing I'd like to improve but haven't found a good solution on this planet.
In Addition I do have the standard Apple-wallhugger as it's the smallest one, a way too much space consuming Ethernet Cable, a pretty worn out logitech presenter, this apple mouse, a usb and a lightning cable and a pen. Excluding my broken Apple standard in-ear headphones you normally find somewhere in between my gear that's all I think.
---
I nearly went through the whole Internet to find anything fitting my needs. I don't like those standard messenger bags you get from each company. They look all the same and are way too big. I went with this Golla Bag that you can't even buy any more. It was pretty cheap – about €50 or so. I bought it for my first iPad (Gen 1) years ago. You can get all of the above gear in it, but leaving out 2 or 3 things it is already way above it's capacities to work comfortable with.
I easily can grab my Macbook or Ipad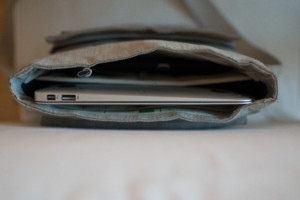 But for the accessories it's way too small. I have the more used stuff in the front pocket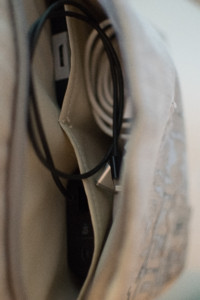 And all the other stuff is being squeezed into the back pocket. That doesn't look good and takes time to sort or search for things I do need now and not in 5 minutes. In addition this bag is almost 5 years old and I do need a newer one. So here are the very two needed improvements:
Better Bag. Small, maybe leather, better looking and way easier to get to my accessories. 
Adapter, thunderbolt, having 2 USB, 1 HDMI, 1 Ethernet
In my trolley, I do have one of those perfect "Anker 4 Port Powerbay" to fast charge my Apple Watch, iPad and iPhone, as well as my Powerbank. In addition there could be the missing Bose QC35, I do use AKG-headphones instead as I can't afford the Bose right now. That's very much all I do have with me. And I think there's a lot to improve. I maybe have found one, but not a single review that keeps me away from buying, it is the "Incase iPad Air Quick Sling Bag Grey" (no affiliate Link), at least it might fit and is no standard as all the other backpacks and messenger bags.